VittoriaVita at the Kinderwunsch Tage in Berlin
On March 9-10, 2019 in Berlin the Kinderwunsch Tage exhibition was hold. This event brought together everyone involved in the topic of infertility: clinics, doctors and couples who cannot conceive children. We, VittoriaVita, have also visited the event.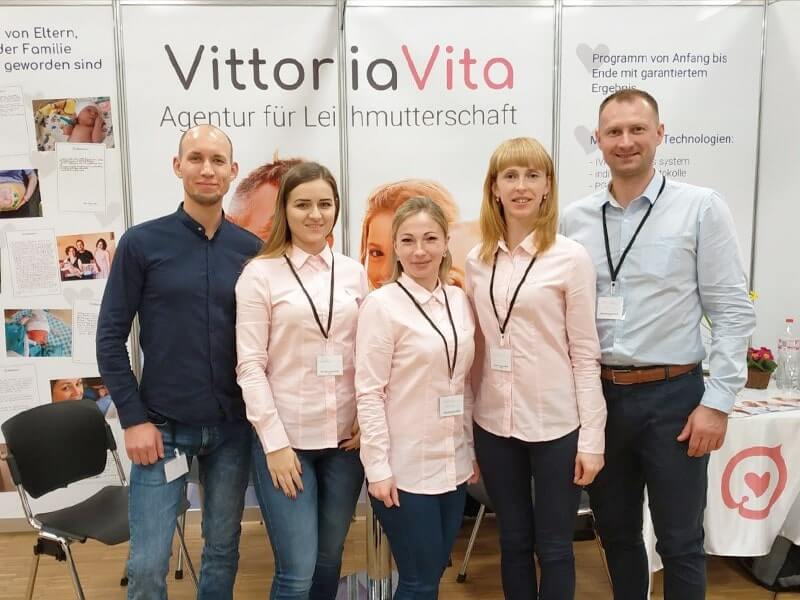 WHAT WAS HAPPENING THERE?
More than 50 companies, involved in the assisted reproductive technologies and the treatment of infertility have come to Berlin to participate in Kinderwunsch Tage. Clinics, surrogate motherhood agencies, sperm and egg banks, cryobanks, pharmaceutical companies are just some of them. Also, there were couples who are treated for infertility and want to get acquainted with modern treatment methods and technologies.
WHAT USEFUL THINGS HAVE WE DONE?
We had two days, three consultants and a thousand of flyers to talk about our work. Hundreds of infertile couples came to the exhibition, and we introduced them to surrogacy programs at VittoriaVita. Our programs include:
full medical and legal support
choice of surrogate mother and egg donor, as well as payments to them
accommodation and meals in Ukraine
organization and support of the delivery
personal translation services
24/7 support
Our client managers. Ekaterina (left) works with couples from Germany, Natalia (right) – with English-speaking clients from all over the world. If you take a surrogate motherhood program in VittoriaVita, you will definitely meet them
WHAT HAVE WE LEARNED?
During Kinderwunsh we listened to many reports. Most of all we liked these:
Reproductive technology for patients 40+
Unsuccessful ICSI – what to do?
Egg donation, phenotypes and donor selection
Egg donation in the 21st century
How to choose a suitable IVF treatment
The procedure for the preparation of donor cells
How to prepare the body for the treatment of infertility
American surrogacy – how to maximize success and control costs
From the last report, it became clear that surrogacy programs in Ukraine are just as effective, but less costly. The prices can be found here.
INTERESTING AND PLEASANT
At the exhibition we met with several couples with whom we were familiar in absentia. Those, with whom we chatted online. When the couples have learned that we would be in Berlin, they came to the exhibition to meet us in person and obtain consultations.
The Kinderwunsch Tage exhibition in Berlin 2019 confirmed that the IVF and surrogarcy programs at VittoriaVita are among the most profitable and progressive in Europe. On December 5 and 6, 2019, we will again arrive in Germany at the Kinderwunsch Tage in Cologne. We invite you to come and meet us in person. If you want to get a consultation right now, write or call.