How does the surrogacy program VittoriaVita work in conditions of quarantine (updated 21.10.2020)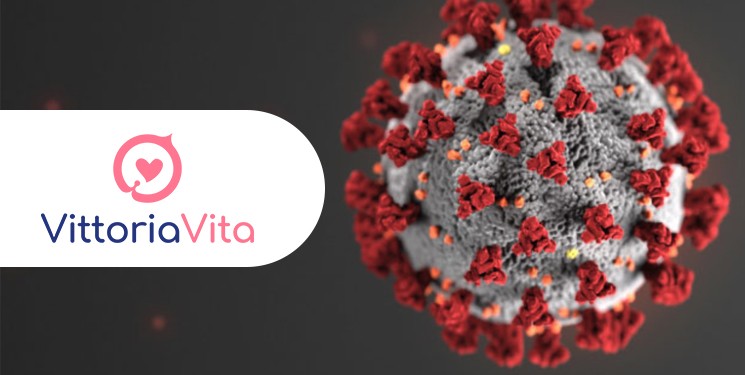 In this article:
The Covid-19 epidemic has introduced its own adjustments to the work of many areas of people's lives. Today we will tell you how VittoriaVita works for you in quarantine time.
We have not stopped our activities and continue to help infertile couples to get their happiness. Of course, we have changed our usual workflows to create the safest possible environment for the parents, surrogate mom and baby. After all, we want everyone to be safe and happy.
What is happening in Ukraine now?
The government extended adaptive quarantine in Ukraine until December 31. Regions will be marked green, yellow, orange or red with the level of risk of spreading Covid-19, depending on the epidemic situation. Automated software based on algorithms and data will mark regions. The National TEB and emergency situations Commission will approve the data.
What changes for adaptive quarantine after 13.10?
Additionally, restrictive measures are being strengthened in regions with a "green" level of epidemiological danger.
In regions of the "green", "yellow" and "orange" levels: it is allowed to hold sports events without spectators and provided that participants comply with anti-epidemic measures.
Local self — government bodies-will have access to the data of the electronic service "Diy.Vdoma" This is necessary to monitor persons who are subject to self-isolation or observation, or violate the quarantine rules.
For the unified state civil protection system, the "emergency situation" regime is extended throughout Ukraine until October 31, 2020.
Online map of epidemic indicators

When is a region considered "with a significant spread of COVID-19"?
If at least one of the features is present:
hospital bed occupancy is more than 50% for five consecutive days (excluding beds reserved for the treatment of COVID-19 in children's and maternity wards);
the average number of PCR and ELISA tests is at least 48 per 100 thousand population over the past seven days.
Green Zone
there is no surge in diseases, bed occupancy in the hospital is at the level of 5%.
✓ wearing masks or respirators in public buildings
✓ mass events with the participation of more than 50 people
✓ cinemas and cultural institutions with no more than 50% of their seats filled in each individual cinema hall
✓ transportation of passengers only within the seats
✓ attendance at pre-school, school, non formal and specialized education institutions, if more than 50% of children and staff of the institution are self-isolated.
✓ open cafes, bars, and restaurants after 22 and before 7 o'clock. However, delivery and Takeaway are allowed.
Yellow zone
Disease indicators change for 5 consecutive days. At the same time, the workload of hospital beds ranges from 5% to 50%, not counting in children's and maternity departments.
✓ mass events with the participation of more than 30 people
✓ visits to social protection institutions where elderly people are located, except for those that provide crisis services
✓ at the entrance to establishments or events, you need to post information about the possible number of visitors. Control must be carried out by the owner of the premises or the organizer of the event.
✓ green zone restrictions remain in place
Orange zone
bed occupancy ranges from 50% to 80%, not counting in children's and maternity wards.
✓ mass events with the participation of more than 20 people
✓ operation of accommodation facilities (hostels, tourist bases, etc.), except hotels
✓ scheduled hospital admissions
✓ gyms, fitness centers, cultural institutions
✓ accepting new shifts in children's camps
✓ restrictions on the yellow and green zones are preserved.
Red zone
a surge in diseases. More than 320 patients per 100 thousand population within 14 days. Bed occupancy is more than 80%, not counting in children's and maternity wards.
✓work of a public transport
✓ visiting of educational institutions
✓ visiting of cultural institutions and cinemas
✓ activities of shopping centers, cafes and restaurants
✓ restrictions on the green, yellow, and orange zones are preserved
✓ visiting of retail and consumer services establishments.
What is the basis for establishing a red zone?
For the red zone, restrictions and their number are set by a joint decision of the state and regional commissions of TEB and emergency situations. This can be a simultaneous closure of all areas, or a gradual restriction for institutions that lead to outbreaks of the disease in a particular region.
The government recommends changing the start schedule of the working day
This will reduce the number of people who cross paths during rush hours in a public transport.
At the local level, decisions on postponing working hours are made by regional, district state administrations and Kiev city administrations, together with local self-government bodies and business entities.
Local executive authorities and other state bodies, local self-government bodies, enterprises, institutions, organizations, regardless of the form of ownership, are recommended to provide flexible working hours, which provides for different start and end hours for employees. If possible, enter remote work.
Business entities are also advised to adjust their work schedule during the quarantine period.
Move the start of the working day to 10 or later hours for business entities that work in the company:
wholesale and retail trade;
repair of motor vehicles and motorcycles;
postal and courier services;
temporary accommodation and catering services;
insurance activities;
education;
providing social assistance;
art, sports, entertainment and Recreation.
During the quarantine period, the working day begins:
at 8 o'clock – in executive authorities, other state bodies, local self-government bodies;
at 10 o'clock – in the Centers for providing administrative services, social protection agencies, territorial bodies of the pension fund of Ukraine.
In addition, local governments are recommended to develop or adjust public transport routes based on the changed work schedules.

Control and responsibility
Appropriate penalties are provided for violating the quarantine conditions:
Fine from 1 to 3 thousand non-taxable minimum incomes of citizens (17-54 thousand UAH) or arrest for 6 months.
Restriction or imprisonment for 3 years, if such actions led or could have led to the spread of the disease.
Imprisonment for a term of 5 to 8 years, if the violation of the observation rules resulted in death or other serious consequences for third parties.
Don't put yourself and your loved ones in danger. Stay at home. Let's Save Ukraine!
Rules for mandatory observation
In April, the government relaxed quarantine restrictions and allowed citizens to replace mandatory observation with self-isolation.
What will be the difference between observation and self-isolation?
During the observation, the person will be in a hospital or other institution that is designated by the local authorities as an observatory. In self-isolation, a person determines where they plan to stay for 14 days. * Persons who have reached the age of 60 are subject to self-isolation.
What should I do to do this?
When crossing the border or checkpoint, a person agrees to self-isolation.
You need to download and register in the mobile electronic service "Diy vdoma".
Follow the instructions from the mobile app and follow the rules of self-isolation.
If you do not want or do not have the opportunity to install the mobile application "Diy vdoma" – you will be taken to the place of mandatory observation.
Who can use self-isolation in "Diya"?
People who enter Ukraine from abroad.
People who enter from the temporarily occupied territories of Donetsk and Luhansk regions, Crimea and the city of Sevastopol through the checkpoint.
Who will get into the observation?
Those people who have twice violated the conditions of self – isolation are necessarily subject to observation in places determined by local authorities.
How to cross the Ukrainian border to participate in the SM program?
VittoriaVita continues to work as usual, we are actively involved in existing surrogacy programs and the organization of new programs. Of course, complying with the legislation of Ukraine, we have made some changes in our work. One such change is a meeting between parents from abroad.
European countries are also divided into zones, depending on new cases of coronavirus. There are 2 types of countries: green and red. Each of them has its own border crossing rules. Couples who are arriving in Ukraine from the green zone must have a valid medical insurance policy that covers the treatment of Covid-19. If you fly from red zone countries, you can wait in self-isolation for 14 days. But there is a simpler option, you need to pass a PCR test for coronavirus at the airport, and remain isolated until the test result (on average, 48 hours). When a negative test comes in, the isolation is removed and you can move freely around the country.
In turn, VittoriaVita undertakes to organize and pay for the delivery of PCR testing for you, as well as provide apartments for living, and add the required number of days for testing free of charge.
While you will be waiting for the test results, you can take a break from the road, while we will prepare all the legal documents and sign you up for the first doctor's consultation in a private clinic. Thus, we create for you the safest and most comfortable conditions for staying in Ukraine for the period of signing contracts.
After a negative PCR test result comes, you immediately go to a doctor's consultation and to sign contracts.
How does the return home work?
Some countries freely allow people who return from Ukraine to pass, even without testing. But there are cases when, upon arrival home, you will have to take PCR testing for coronavirus. And in this case, VittoriaVita also takes care of the organization and payment of the test. Therefore, you can return home without any problems.
What if there is no possibility to come?
In this case, we will arrange an online meeting with our consultants, and you will be able to sign contracts remotely with a guarantee of keeping the price of the surrogacy program.
How does the price of programs change?
Until the official end of the quarantine, all prices remain unchanged. Thus, by signing an agreement, you fix the cost of the program, and accordingly it does not change for you, even after the end of quarantine. The main condition is the signing of all documents before the end of quarantine.
The prices of the programs are calculated individually for each case. In order to find out your cost, please contact our consultants.
How is VittoriaVita working now?
As of August, we continue to operate normally. We are actively signing new contracts – this month, we have already signed 2 contracts remotely (Spain and Germany), as well as 3 couples have already successfully completed the process and returned home freely. We are fully continuing our programs of ovarian stimulation, culture and embryo transfer. We are dynamically observing existing pregnancies. And at the moment, couples with the USA, Italy, France, Germany, Canada, Great Britain are waiting for their happiness. And also, 18 couples are now on their last visit to Kiev.
If you have any questions or want to sign up for the first consultation, fill out the form and we will contact you shortly.
We work for your happiness.